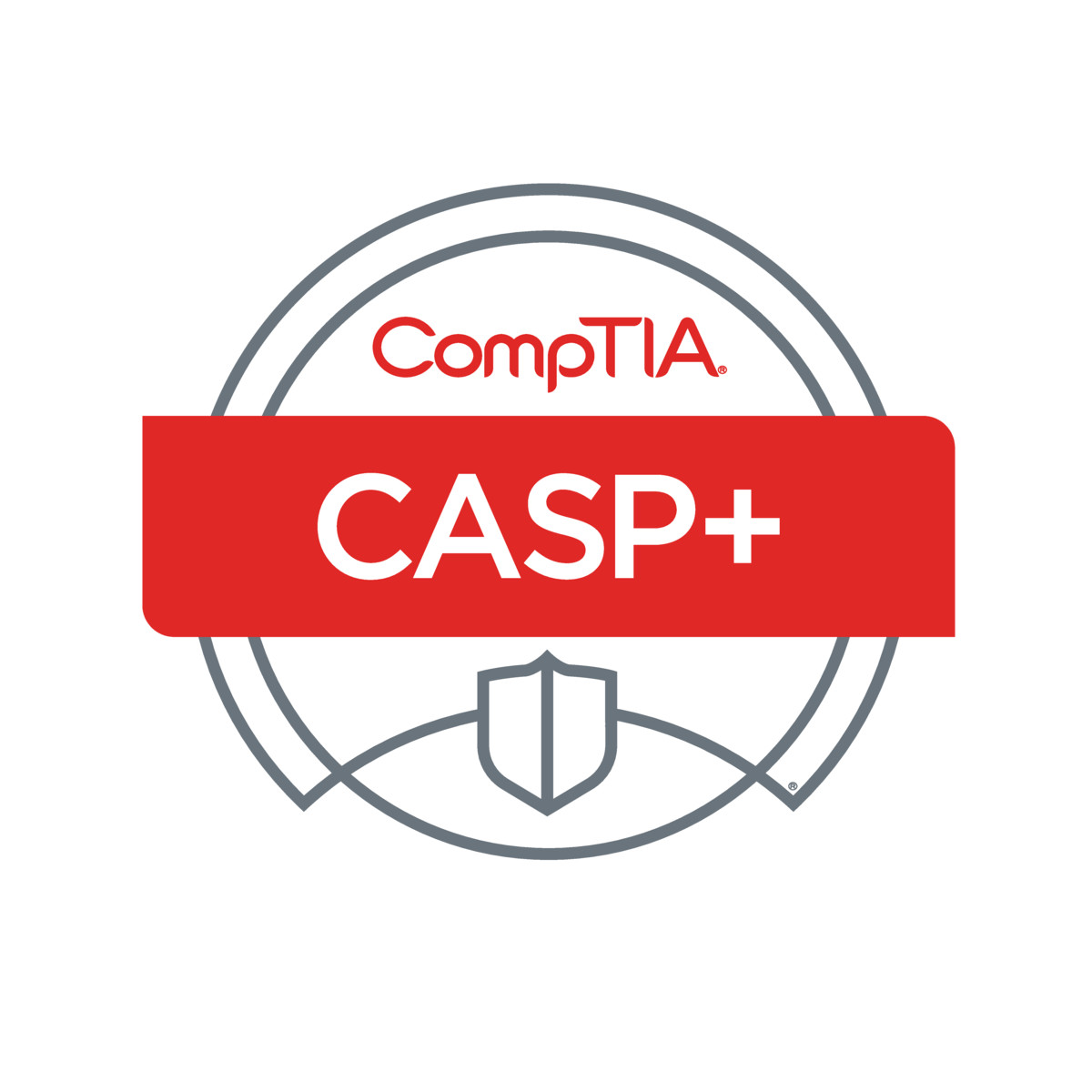 CompTIA Advanced Security Practitioner
CompTIA CASP+
CAS-004 (Updated 2021)

---
                                             About the Course
You have experience in the increasingly crucial field of information security, and now you're ready to take that experience to the next level. CASP+ – CompTIA Advanced Security Practitioner (exam CAS-004) is the course you will need to take if your job responsibilities include securing complex enterprise environments. In this course, you will expand on your knowledge of information security to apply more advanced principles that will keep your organization safe from the many ways it can be threatened. Today's IT climate demands individuals with demonstrable skills, and the information and activities in this course can help you develop the skill set you need to confidently perform your duties as an advanced security professional. This course is designed for IT professionals who want to acquire the technical knowledge and skills needed to conceptualize, engineer, integrate, and implement secure solutions across complex enterprise environments.This course can also benefit you if you intend to pass the CompTIA Advanced Security Practitioner (CAS-004) certification examination. What you learn and practice in this course can be a significant part of your preparation.
---
Course Goals:
In this course, you will analyze and apply advanced security concepts, principles, and implementations that contribute to enterprise-level security, including:

Support IT governance in the enterprise with an emphasis on managing risk.
Leverage collaboration tools and technology to support enterprise security.
Use research and analysis to secure the enterprise.
Integrate advanced authentication and authorization techniques.
Implement cryptographic techniques.
Implement security controls for hosts.
Implement security controls for mobile devices.
Implement network security.
Implement security in the systems and software development lifecycle.
Integrate hosts, storage, networks, applications, virtual environments, and cloud technologies in a secure enterprise architecture.
Conduct security assessments.
Respond to and recover from security incidents.
---
Audience:
This course is designed for IT professionals in the cybersecurity industry whose primary job responsibility is to secure complex enterprise environments. The target student should have real-world experience with the technical administration of these enterprise environments.This course is also designed for students who are seeking the CompTIA Advanced Security Practitioner (CASP+) certification and who want to prepare for the CAS-004 exam. Students seeking CASP+ certification should have at least 10 years of experience in IT management, with at least 5 years of hands-on technical security experience.
---
Course Format:
| | |
| --- | --- |
| Присъствен (Classroom) Курс в Учебната ни зала или В Офис на Клиент | Онлайн (Online/Virtual) Курс във виртуална зала с инструктор |
---
Course Language Option
| | |
| --- | --- |
| Български (Bulgarian) | Английски (English) |
You can choose the language in which the training will be conducted – Bulgarian or English. All our instructors are fluent in English.
---
                                                                 Course duration
5 working days (Monday – Friday 09:00 – 17:00)

or 40 uch.ch. training (theory and practice) in non-working hours lasting 1 week

Saturday and Sunday 10:00 – 14:00, 14:00 – 18:00, 18:00 – 22:00

Monday and Wednesday 19:00 – 23:00 Tuesday and Thursday 19:00 – 23:00
---
                                                                          Payment

An application for an invoice is accepted at the time of enrollment in the respective course. An invoice is issued within 7 days of confirming the payment.
---
                                                             Upcoming Courses
For more information, use the contact form. We will contact you to confirm the dates.
Prerequisites:
Knowledge of identity and access management (IAM) concepts and common implementations, such as authentication factors and directory services.
Knowledge of cryptographic concepts and common implementations, such as Secure Sockets Layer/Transport Layer Security (SSL/TLS) and public key infrastructure (PKI).
Knowledge of computer networking concepts and implementations, such as the TCP/IP model and configuration of routers and switches.
Knowledge of common security technologies used to safeguard the enterprise, such as anti-malware solutions, firewalls, and VPNs.
---
                     The course prepares for the following certification levels
You can be certified in our test center.