Linux Professional Institute (LPI) към настоящия момент предлага три различни сертификационни програми. Основната програма – LPIC (Linux Professional Institute Certification) има три нива, които адресират различни аспекти на Linux системната администрация. LPI предлагат входящо ниво за сертификация на на нащинаещи в Linux – Linux Essentials, както и програма за специализация, която към момента предлага основно сертификация за DevOps – Linux Professional Institute DevOps Tools Engineer.
---
LPIC-1 is the first certification in LPI's multi-level Linux professional certification program. The LPIC-1 will validate the candidate's ability to perform maintenance tasks on the command line, install and configure a computer running Linux and configure basic networking.
The LPIC-1 is designed to reflect current research and validate a candidate's proficiency in real world system administration. The objectives are tied to real-world job skills, which we determine through job task analysis surveying during exam development.
Предстоящи курсове за ниво LPIC-1
---
LPIC–2 is aimed at advanced Linux professionals. To be awarded LPIC level 2 you should be able to administer small to medium sized mixed networks and provide suggestions to upper management. To become LPIC–2 certified the candidate must be able to: Administer a small to medium-sized site.
Предстоящи курсове за ниво LPIC-2
---
Ниво LPIC-3 се състои от сертификати фокусирани в няколко специалности, включително сигурност и виртуализация.
Всеки изпит има серия от теми като част от учебната програма. Всяка тема с тегловен коефициент, което съответства на честотата на въпросите по време на изпита от тази тема.
Предстоящи курсове за ниво LPIC-3
---
Нива за специализация
Предстоящи курсове за LPIC Specialist
---
Ваучери за изпит
IT-Training.pro е оторизиран партньор на LPI. Като такъв предоставяме възможността да се сертифицирате за всяко едно от нивата на LPI използвайки ваучери за отстъпка от стандартната цена на изпит. Дори да не сте наш клиент преди, може да заявите своя ваучер с намаление.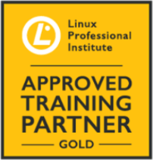 ---
Провеждане на изпити
Считано от 01.01.19 IT-Training.pro ще провежда официални LPI, Microsoft, Cisco и др. изпити, като оторизиран Pearson VUE тест център. Всички наши клиенти са с приоритет при организиране и провеждане на сертификационни изпити. Запазете вашето място за изпит, чрез нашия сайт или системата на VUE. За повече инфо ни пишете тук или на нашата страница във Facebook.
---
Всички продукти за LPI