IT-Training.pro е оторизиран Изпитен център на GASQ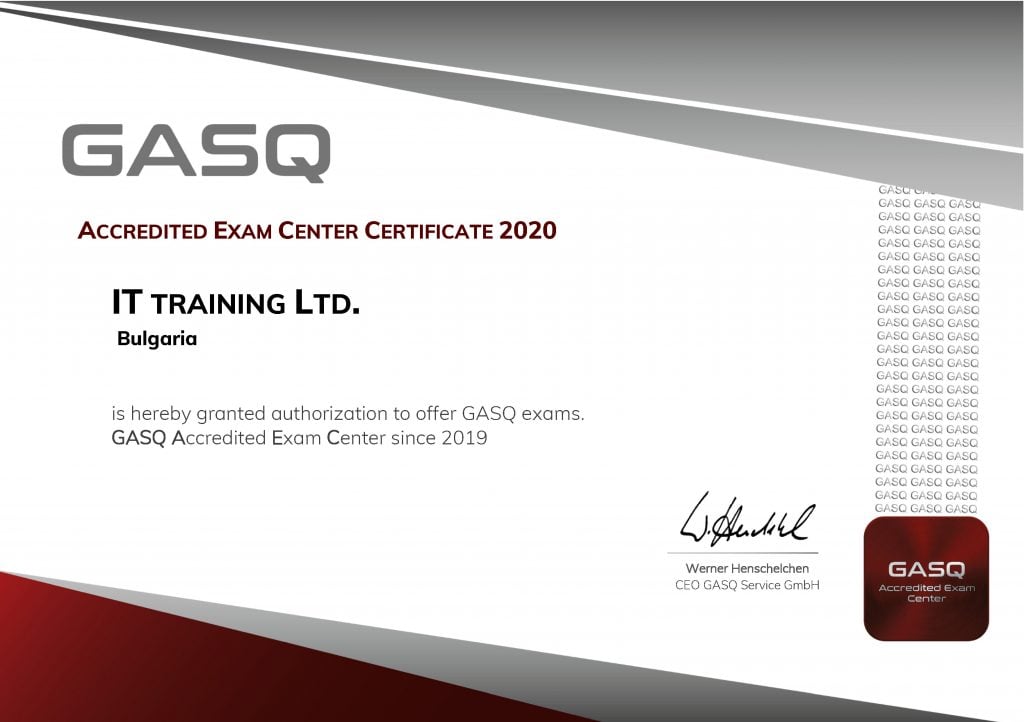 Knowledge, training and continued education have become top priority topics around the globe. However, the type and quality of training employees receive differs significantly in many cases and as a result, there can be large differences between the knowledge and work styles of various staff members. Similarly, this situation exists in multi-national conglomerates where employees speak a variety of languages. In both cases, businesses frequently find themselves confronted with the unique phenomenon where people share the same goals, but are unable to communicate effectively with each other. GASQ helps companies overcome this obstacle by creating opportunities to achieve common ground through certification by introducting the use of globally uniform norms and standards across departments and business units.
Based on this principle, the GASQ certification program helps with career flexibility. This means that a professional's certifications can grow along with his or her career, including numerous specialization options.

As one of the leading international certification institutes for software quality, GASQ is directly and intensively involved in the development and compilation of new standards and certifications. GASQ brings its global staff certification know-how to the table in a variety of standardization institutions and to a wide spectrum of educational programs, making a major contribution to international cohesiveness within the IT industry.
---
При нас може да се явите на следните сертификационни изпити (програми)
---
ISTQB – International Software Testing Qualifications Board
ITCQF® Certified Technical Communication Professional
IREB Certified Professional for Requirements Engineering
IBITGQ – International Board for IT Governance Qualifications
A4Q – Certified Selenium Tester
ASQF® Certified Professional for IoT (CPIOT)
---
При регистриране е задължително да заплатите таксата за изпит, както и да предоставите точна информация за обратна връзка (и издаване на фактура).
---
Форма за записване и обратна връзка